In my opinion this is the king of egg breakfasts. Omelettes are cool but frittatas are just too amazing. It's like a breakfast pizza that doesn't suck (I know some of you have had that shit back in high school. You know the eggs, cheese, bacon pizza that tasted like day old scrap food.) Anyway, this recipe is my favorite but frittatas are extremely malleable and you can put whatever you want in them.
Smoked Salmon Frittata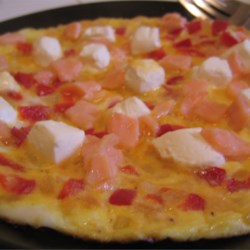 Ingredients
4 tablespoons olive oil
1/4 medium onion, chopped
salt and pepper to taste
4 ounces pepper smoked salmon
8 black olives, chopped
6 eggs
2 tablespoons milk
2 tablespoons heavy cream
1/2 (8 ounce) package cream cheese, cubed
Directions
Preheat the oven to 350 degrees F (175 degrees C).

Heat olive oil in an 8 inch oven-safe skillet over medium heat. Add onion, and season with a little salt and pepper. Cook, stirring until translucent. Add the salmon and olives; cook and stir briefly to release the flavors.

In a medium bowl, whisk together the eggs, milk and cream. Pour over the salmon and onion, and stir gently. Scatter cubes of cream cheese over the top. Cook over medium heat without stirring, until the edges appear firm.

Place the skillet in the preheated oven, and bake for 20 minutes, or until nicely browned and puffed. Flip onto a serving plate, and cut into wedges to serve.
Retrieved September 21, 2010 from http://allrecipes.com/Recipe/Smoked-Salmon-Frittata/Detail.aspx